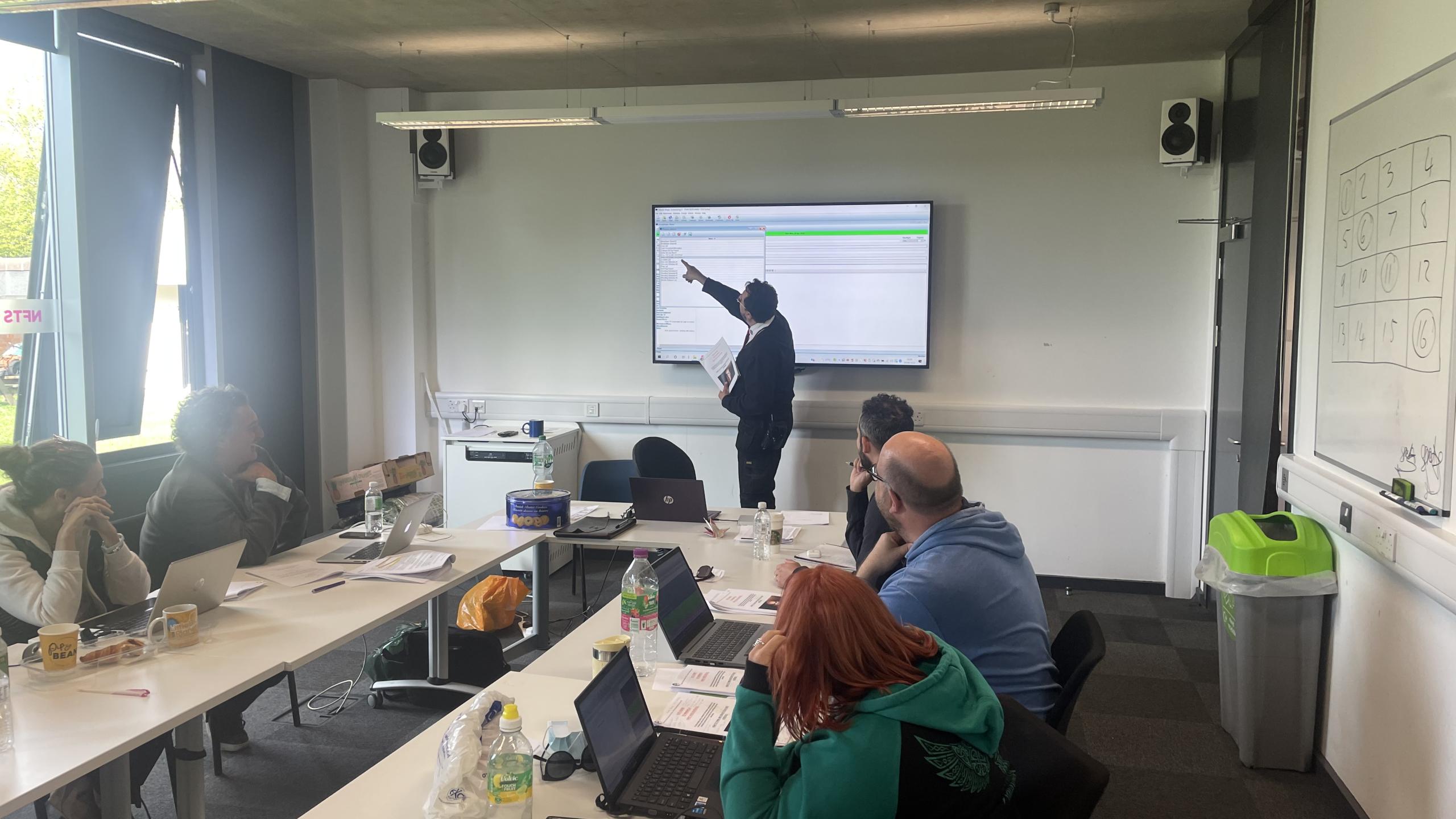 With a fantastic turn-out from AD Guild Members, the training was a productive period of Movie Magic Software training led by Francesco Reidy, AD Guild Vice Chair. The course, run by Vice Chair Francesco Reidy at no cost to the Guild, and at no cost to the attendees, invited members to a comprehensive training on Movie Magic Software. The course was a resounding success with all the AD's who attended sharing their gratitude to both the Guild and the NFTS, as well as the positive impact of the course on their confidence going forward.
 At the end of two days the students had completed a schedule based on a short film and had learned some of the more advanced features, like strip design and advanced searching. Training is an area in which the Guild can shine.
We would like to pay special thanks to Francesco who made sure that every student came away from the two day course with confidence in being able to break down and schedule a film or TV drama. Apart from teaching the AD's how to use the software, Francesco spent time teaching them the invaluable skills of "How to Think" about scheduling. The mental approach is as important as the software itself, proven by the shining reviews of the course by the AD Guild members.
 Many thanks also to the NFTS who kindly provided a superb, well equipped venue for the occasion, and for everyone who attended.

Words from the AD Guild Members
"Cesco, your generous information was superb. I have always been a little daunted by MMS but this weekend I became more confident using the application, as well as gaining a deeper understanding of how to think when scheduling. I highly recommend this course to others!"
"A huge thank you for your brilliantly run course this weekend. It was really well structured and clear. In the space of 48 hours I've gone from having no clue about MM to having a really good understanding of the fundamentals."
"The course was better than I could ever have expected! Not only do I feel confident about creating a comprehensive schedule, what was more invaluable to learn was how to implement that in the real world and your experience and knowledge of how to do that is unsurpassed."
"I feel very privileged to have been given the opportunity to learn MMS from you. Having done these two days I feel confident in my understanding of the software and plan on using it next week on a shoot. Anyone looking to understand MMS should sign up to this course led by you."
"The MMS training has been an enlightenment not only on how to use the software, but also, how to think of scheduling in a creative and effective way. The resources you've shared will be of great use and I am sure it will make us better professionals, all in benefit of the Guild's efforts to achieve excellence in its roster. We've improved our skills in Movie Magic tremendously, but not only that... we've come out having a better understanding of the AD department and filmmaking in general. And for that, there's no software to thank, it's all you."
"It's absolutely great to see the Guild offering these amazing opportunities to enhance our knowledge in our Assistant Director roles, hearing directly from the most experienced ADs in the industry."
"Thank you for what was an invaluable few days for anyone wanting to make the jump up to First, move from commercials to TV Drama or Film or even someone looking to make the jump up to Second as I think the sooner an AD can get their head round all of this the better they are going to be at their job."
"After two days I really feel confident with the software and also more crucially confident with the way I should approach a First Pass Schedule. The things I should be thinking about and the ways to make that manageable. How essentially to create days that work."
"I found it informative, extremely helpful and would recommend it to AD's who are longing to gain valuable help and instruction while using the software.  I found your delivery of the course at a very high level and would attend any course you feel you could lead."

Stay tuned for future developments from the Education and Training Committee including our up-coming mentorship scheme to encourage diversity and inclusion in the AD field, as well as an up-coming Microsoft Excel course to help build members' skill-set in this area.